PRESS RELEASE 10. 03. 2021
Carriers paid a toll of 1.087 billion Czech crowns in February
In Prague, 10 March 2021 – Toll collection from vehicles weighing over 3.5 tons grew at a double-digit rate in February as well. During February, carriers paid 1.087 billion Czech crowns for using toll roads, i.e. by 11.65 % more than in February 2020. The reason for the growth is a result of changes in the setting of toll rates, which as of 1 January 2021 also include charges for traffic noise and air pollution.
At the end of February 559 thousand vehicles were registered in the electronic toll system. Currently, more than 476,000 on-board units are in circulation, of which less than a third is used by domestic vehicles.
Compared to January, in February the toll collection increased slightly on motorways (the toll collection exceeded 964 mil. CZK) and also on 1st category roads (the toll collection was over 122 mil. CZK). With the same number of working days, more lorries travelled on Czech roads and motorways in February this year than in the first month of the new year.
The new charges for traffic noise and air pollution account for about ten percent of the total toll collection. The remaining part represents the road use charge.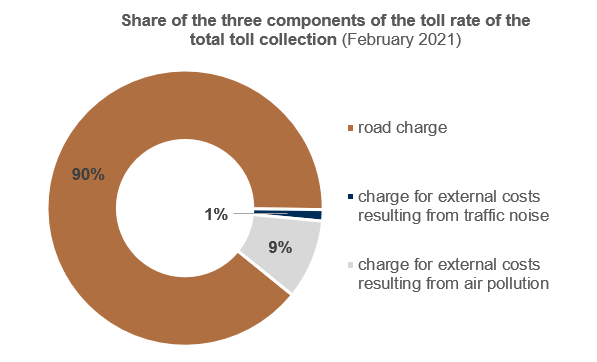 The electronic toll system based on satellite technology was launched on 1 January 2019. In 2020, it collected for the government the sum of over 11.5 billion Czech crowns from carriers for using toll roads. Mainly due to the expansion of the network of 1st category toll roads the year-on-year growth of toll collection exceeded 5 %. Compared to the original microwave technology, the operating cost of the toll system dropped by two thirds.