PRESS RELEASE 24. 08. 2022
In July carriers paid 1.165 billion crowns in tolls
Prague, 24 August 2022 – Year-on-year growth in toll collection slowed to 1.65 percent in the first holiday month, carriers paid 1.165 billion crowns for driving on toll roads. The number of toll transactions increased by 0.6 percent year-on-year to more than 88 million – but this was significantly improved by the expansion of toll collection onto 1st category roads as of 1 July 2022.
The collection of tolls in July was, as always, influenced by public holidays in the first week of July. This is also why the first holiday month is one of those with lower toll collection every year.
The July expansion of toll collection onto 373.3 kilometres of 1st category roads did not bring about a fundamental change in the structure of toll collection. From 1 to 31 July 2022 the new toll roads earned the total of 17 million Czech crowns. Approximately 90% of the tolls continue to be on motorway sections, the remaining 10% are tolls for driving on 1st category roads. The number of registered vehicles in the system exceeded 700,000 vehicles in the first half of July.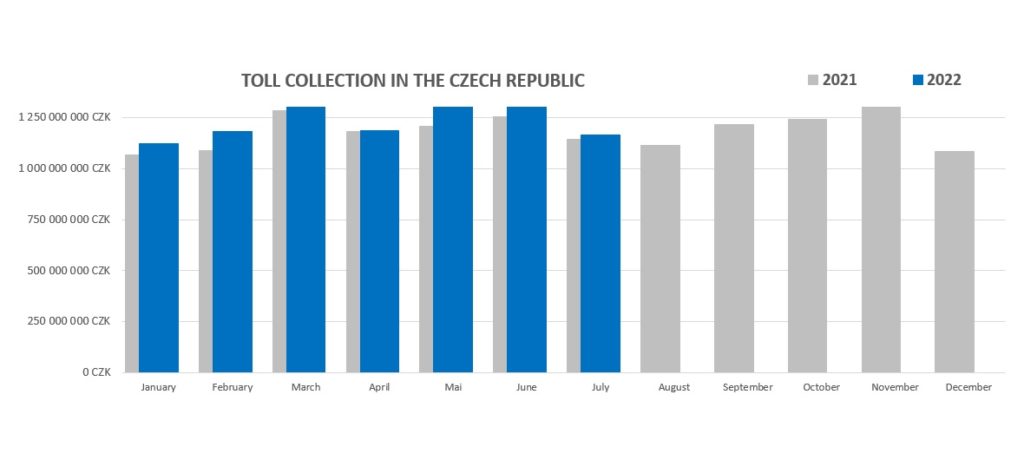 At the end of the first half of the year 706 thousand vehicles weighing over 3.5 tonnes were registered in the electronic toll system. Of these 172 thousand vehicles had domestic license plate numbers, the remaining vehicles had foreign ones. The number of on-board units issued to carriers reached 570 thousand.