PRESS RELEASE 10. 11. 2020
In October CzechToll collected 1.11 billion crowns, up 11 percent year-on-year
Prague, 10 November 2020 – October has confirmed its position as one of the strongest months in the area of toll collection on Czech roads and motorways. CzechToll levied a total of CZK 1.11 billion in tolls for vehicles using toll roads and motorways, which is 10.7 percent more than in October 2019.
Tolls are charged for lorries with a maximum permissible weight of over 3.5 tonnes on motorways and selected 1st category roads. The total length of toll roads exceeds 2,400 kilometers. Carriers with vehicles registered in the Czech Republic (49.6 percent) and carriers from abroad (50.4 percent) contributed almost equally to toll payments.
"In the last week of October, a slight slowdown in the growth of toll collection is apparent. However, the effects of the new restrictions in the fight against coronavirus on traffic intensity are significantly smaller than in the spring months. Maintaining the operation of large car manufacturers and the supply chains connected to them appears to be key in the area of domestic logistics," said Petr Chvátal, CzechToll COO.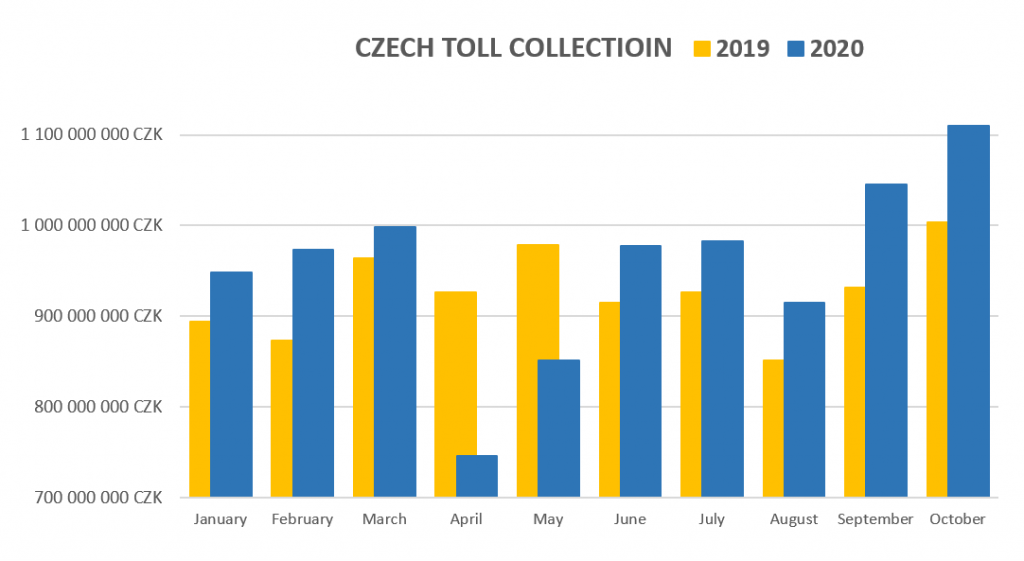 At the end of October, almost 530,000 vehicles were registered in the electronic toll system. 155 thousand vehicles have Czech LPNs, while 375 thousand are from abroad. The carriers picked up almost 460,000 OBUs for these registered vehicles.