PRESS RELEASE 07. 01. 2021
Investment in the new toll system has paid off: the government collected over CZK 11.5 billion in tolls last year, up 5.24 % year-on-year
Prague, 7 January 2021 – The generational replacement of the toll system for lorries was a good investment for the government. Compared to the original microwave technology, the Czech Republic saved almost CZK 1 billion on the operating cost of the electronic toll system last year. In addition, toll revenues increased by CZK 573 million year-on-year, despite the negative effects of the COVID-19 pandemic on the entire European transport sector.
For the whole of 2020, the government collected more than CZK 11.5 billion from carriers on tolls using the satellite toll system. Year-on-year growth in toll collection exceeded 5.24 %, despite the fact that toll collection fell at a double-digit rate during the spring economic restrictions in connection with the fight against the COVID-19 pandemic.
"The excellent results of 2020 are a proof that the new satellite toll system reliably fulfils the function of the country's strategic infrastructure. There has been a significant decrease in the cost of operating the system, and, as a result, more money can be invested from carriers in the renewal and development of transport infrastructure in the Czech Republic," said Matej Okáli, CzechToll CEO.
In the last month of 2020, carriers paid CZK 897 million for the use of toll roads, 24 % more than in 2019. The significant year-on-year increase may be due mainly to high production in the automotive industry, which was positively reflected in toll collection throughout the autumn.
"I am glad that we managed to ensure stable operation of the system even in the complicated year 2020, so that carriers do not feel limited in the area of client service when fulfilling their toll obligations. We managed to implement a safer entry into customer zone via the eIdentita portal, and we prepared the system for introduction of the three-component toll from 1 January 2021," added Okáli.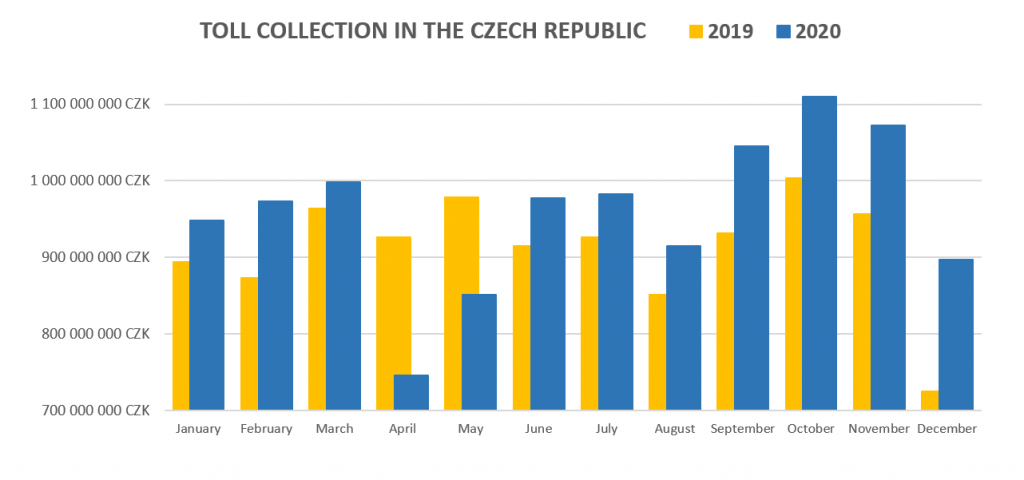 At the end of 2020, 546 thousand vehicles were registered in the electronic toll system, for which carriers collected 468 thousand on-board units. Less than a third of registered vehicles are cars from the Czech Republic.