PRESS RELEASE 16. 09. 2021
The number of toll transactions increased by 6.6 percent year on year in August, carriers paid 1.117 billion Czech crowns in tolls
Prague, 16 September 2021 – Carriers paid 1.117 billion Czech crowns in August for using toll roads. The year-on-year growth in toll collection thus exceeded 22%. The growth in the toll collection was due to changes in the structure of toll rates valid since the beginning of this year and at the same time a year-on-year increase in traffic intensity.
So far this year, toll collection has exceeded one billion Czech crowns every month. This also applies to August, which has long been one of the months with under-average toll collection. August has so far become the third weakest month in terms of toll statistics for 2021 – CzechToll recorded a lower amount of toll collection only in January and February, when traffic was still strongly affected by the peak of the COVID-19 pandemic.
Despite the double-digit year-on-year growth in toll collection, CzechToll recorded 10 million fewer toll transactions in August 2021 compared to July 2021 (a total of 86.1 million transactions). The intensity of traffic thus reflected the holidays of carriers, but the impact of production restrictions in the automotive industry, which faces a shortage of chips needed for the production of vehicles, can assumed as well. Although the number of toll transactions grew by 6.6% year-on-year, this is half the growth rate compared to June.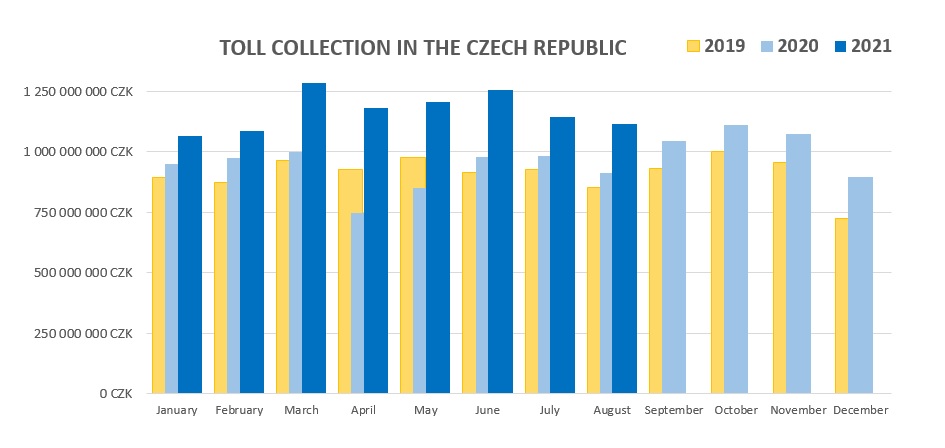 In the end of August, over 610 thousand vehicles weighing over 3.5 tonnes were registered in the electronic toll system. Of these around 161,000 vehicles had domestic license plate numbers, the remaining 449 thousand vehicles were registered abroad. The number of OBUs issued to carriers exceed 511 thousand units. In the long-term perspective, about half of the toll collection was collected from foreign carriers.