PRESS RELEASE 13. 12. 2021
Toll collection in November increased by 22 percent year on year, for the first time in history it exceeded 1.3 billion crowns for one month
Prague, 13 December 2021 – November became the month with the highest toll collection this year and in the entire history of electronic toll collection in the Czech Republic since 2007. Carriers paid 1.307 billion crowns for driving on toll roads, 22 percent more than last year. The total collection for 11 months of this year exceeded 13 billion Czech crowns.
After a slower October, the number of toll transactions also returned to growth, indicating the activity of carriers on the network of toll motorways and 1st category roads. The CzechToll system recorded a total of 97 million transactions, i.e. 6 percent more than in November 2020 and at the same time almost 5 percent more than in October 2021.
On 18 November the highest amount of tolls since the beginning of this year was collected so far. Between 10:00 and 11:00, the satellite toll system collected toll levying data from almost 33,000 vehicles. On the same day, the highest amount of daily toll collection in 2021 was recorded as well.
At the end of November, the satellite toll system completed 2 years of its operation. Since its launch, it has processed more than 1.96 billion toll transactions, which were charged for 6.7 billion kilometres driven on toll roads in the Czech Republic.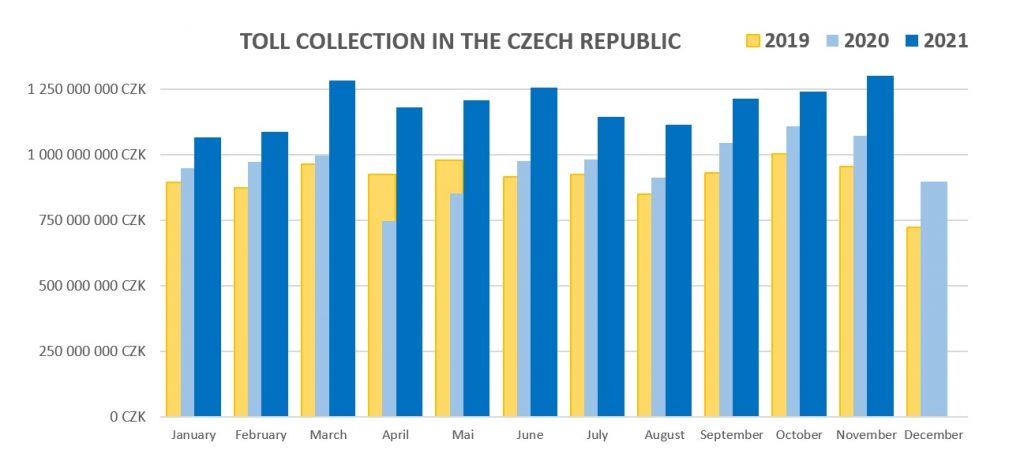 At the end of November, over 636,000 vehicles weighing more than 3.5 tonnes were registered in the electronic toll system. Of these, almost 164,000 vehicles had domestic license plate numbers. The number of on-board units issued to carriers was close to 528 thousand, almost 153 thousand units were used in domestic vehicles. In the long run, approximately half of the total tolls collected is going to be paid by foreign carriers.