PRESS RELEASE 11. 11. 2021
Growth in toll collection slowed in October, carriers paid 1.241 billion Czech crowns
Prague, 11 November 2021 – Year-on-year growth in toll collection slowed in October, although it maintained a double-digit pace. Carriers paid 1.241 billion crowns for using toll roads, 11.8 percent more than in October 2020. For the first ten months of this year, carriers paid 11.804 billion crowns in tolls – which is more than for the whole of 2020 (11.519 billion Czech crowns).
Compared to October 2020, there were fewer vehicles driving on the toll sections of motorways and 1st category roads. The CzechToll satellite toll system recorded 92 million toll transactions in October, i.e. almost 3 million fewer transactions than a year ago. The increase in toll collection is due to a change in the structure of tolls, which since the beginning of the year also includes charges for traffic-based noise and air pollution.
The external cost charge for traffic-based air pollution accounted for approximately 9 percent of the total toll collection. More than 1 percent of the total collection was attributed to the external cost charge for traffic-based noise pollution. The remaining 90 percent of the collection was attributed to road use charges.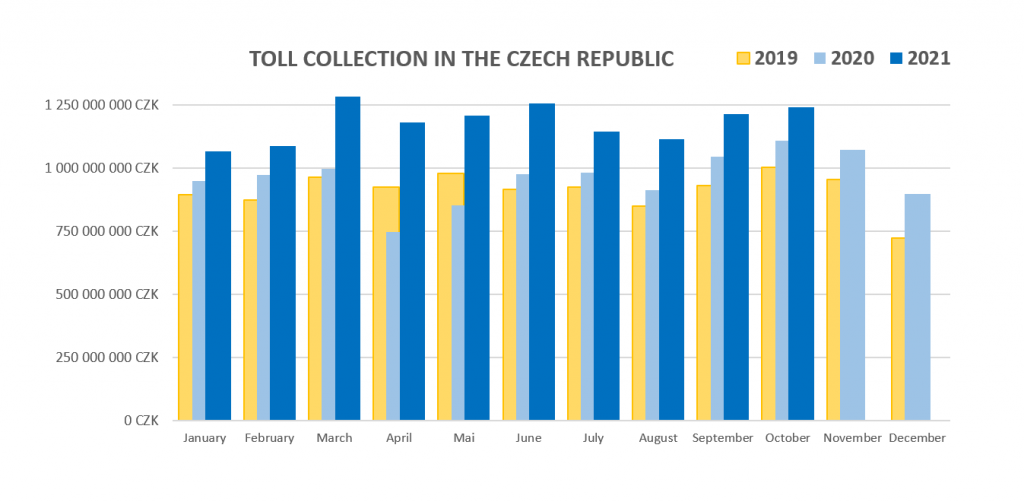 At the end of October, over 626,000 vehicles weighing more than 3.5 tonnes were registered in the electronic toll system. Of these, almost 163,000 vehicles had domestic license plate numbers. The number of on-board units issued to carriers exceeded 521 thousand, while almost 153 thousand units were used in domestic vehicles. In the long run, approximately half of the total tolls collected will be paid by foreign carriers.