PRESS RELEASE 18. 01. 2022
Toll collection in 2021 exceeded 14 billion crowns, the total cost of operation and development of the system did not exceed 1 billion Czech crowns
Prague, 18 January 2022 – Changes in the structure of toll rates effective from 1 January 2021 secured the highest toll collection in history last year. For the whole year carriers paid 14.198 billion Czech crowns more for using toll roads, or 23 percent more than in 2020. The CzechToll satellite toll system is one of the most efficient systems in the world.
For the whole of 2021, carriers paid 1.63 billion Czech crowns for driving on 1st category toll roads; the remaining amount of 12.56 billion Czech crowns was levied for using motorways. In the long run, approximately half of the total tolls collected are going to be paid by foreign carriers.The amount of discounts granted to carriers increased as well – at the end of 2021 quantity discounts in the total amount of 261 million Czech crowns were granted for tolls generated in 2020. At the end of 2020 (for 2019) it was 196 million Czech crowns.
"The parameters required by the government and according to which we built the satellite toll system were chosen on the basis of professional consideration and thirteen years of experience in the operation of the first generation microwave toll system. As a result, the cost of toll collection in the Czech Republic is now below seven percent. This makes it one of the most efficient systems of its kind in the world," said Petr Chvátal, CzechToll's COO.
The total cost of operating the toll system, its technical development and the government's change requirements did not exceed 1 billion crowns in 2021.
In December alone, CzechToll levied 1.087 billion Czech crowns in tolls for vehicles over 3.5 tonnes (year-on-year increase of 21 percent). The intensity of traffic grew slightly as well – the number of recorded toll transactions increased by 2.2 percent year-on-year to 78.5 million.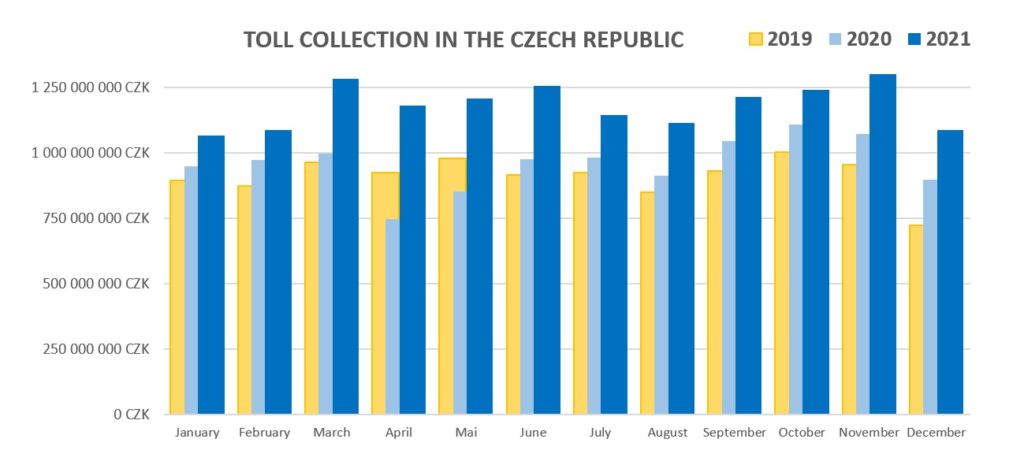 The toll system operated reliably and without outages throughout the year. In each month of the last year, CzechToll complied with the parameters set for the quality of services and the efficiency of toll collection.
At the end of 2021, almost 643,000 vehicles weighing over 3.5 tonnes were registered in the electronic toll system. Of these, almost 164,000 vehicles had domestic license plate numbers. The number of on-board units issued to carriers exceeded 530 thousand, of which over 153 thousand units were used in domestic vehicles.